$250,000 Raised at Tech Tackles Cancer Boston 2018
We are now nearly a week clear of Tech Tackles Cancer Boston 2018 and now that we have had some time to reflect on the event, we wanted to take the time to thank everybody that helped make the night such a success, and that is all of you! Without the overwhelming support we got from the Boston tech community, we would not have been able to reach our goal or fill the Lansdowne Pub the way we did on a cold and rainy Boston night, and we are very grateful and humbled by the generosity you all showed. Thanks to everyone involved, we are able to spread over $250,000, with donation still rolling in, amongst three fantastic charities: St. Baldrick's, One Mission, and Boston Children's Hospital.
First, we would like to thank all of the teams and companies that competed in the Live Band Karaoke Showdown, as the event quite literally would not have been able to run without your participation. From Threat Stack to LaunchSource, BitSight to ObserveIT, CloudHealth to Oracle, Motus to Veracode, Wells Fargo to AtScale, Hack Reduce to Kirby Wadsworth, and of course, our champions, DataRobot, you all stepped up and rocked the mic like not many people can say they have. We are incredibly grateful for all of the fun you helped provide to the 300+ people in attendance.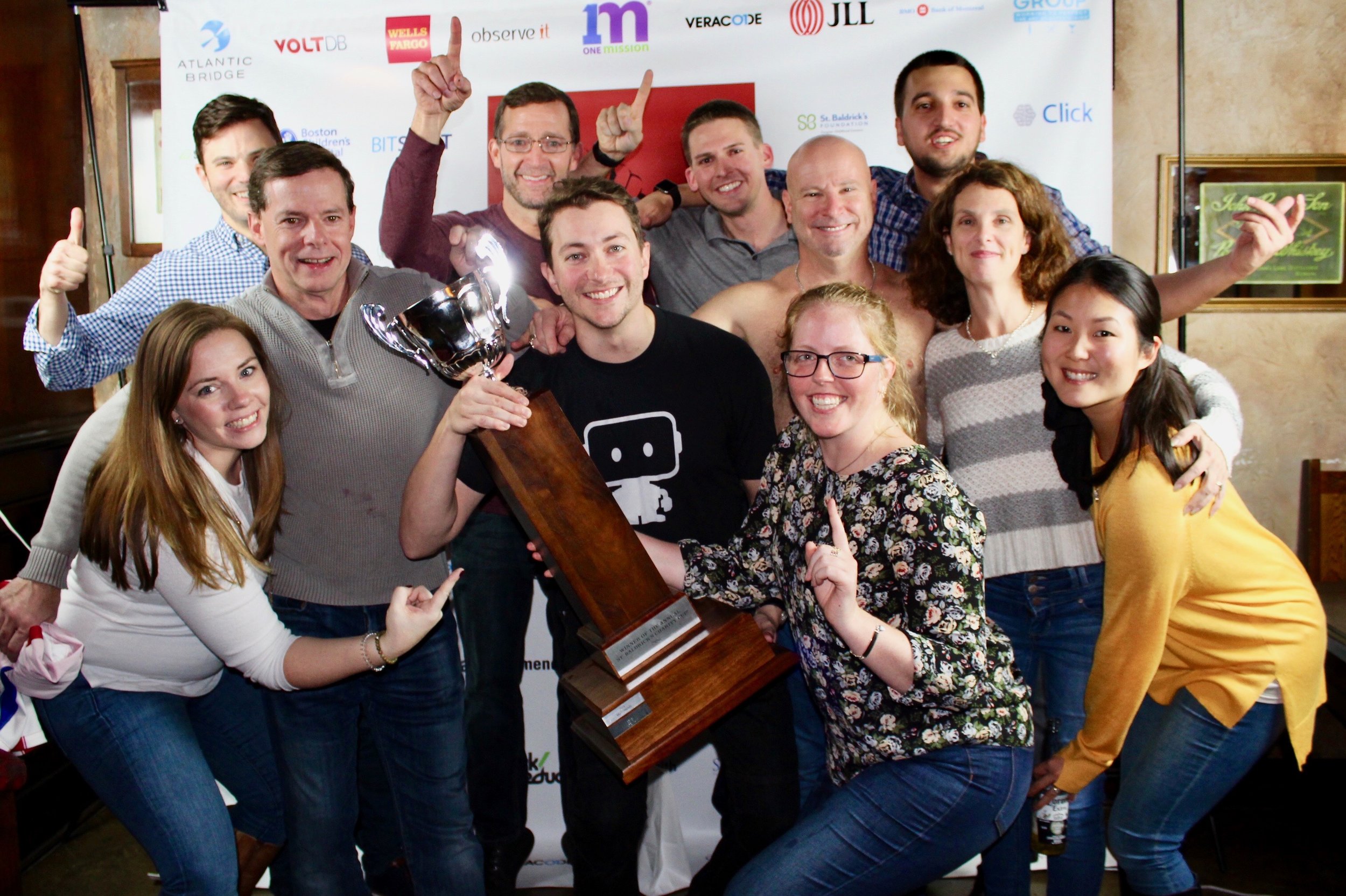 Additionally, I would like to give a special thank you to all of our sponsors: The Lyons Group, who generously lent the Lansdowne Pub to us for the night and EM Vision for capturing it all on video. Also, thank you to Tony Savarino and the Savtones featuring Chris Cote for helping us rock Lansdowne and the Bruins for helping energize the crowd. Our financial sponsors: Reverb Advisors, Hack/Reduce, JLL, FamaPR, Cooley LLP, Jit Saxena, AWS, Sigma Prime Ventures, Square1 Bank, SCS Financial, Bank of Montreal, Rapid7, GuidePoint Security, Cloudera, Carbon Black, VoltDB, Delin Design, Ten Eleven Ventures, Atlantic Bridge, Storm Ventures, nCloud Integrators, Comcast Ventures, Peck Associates, Click Software, LexShares, Boston Green Health, Matrix Partners, Postscript.us, Boston Meridian, Burak Alici, Dustin Webber, Cross Peak Capital, BodyBurn by Ray, Peck and Associates, and OneDB. Thanks to all of you for your generosity!
Likewise, I would like to thank all of our incredible volunteers that helped create the event, every single one of them played an invaluable role. Thank you to Matt Burke, Tom, Denise, and Megan Lynch, who ran the raffles, as well as helped work the ticketing for the event. Thank you Eugene O'Neill and Andrew Brennan who helped us with outreach as well as helped us coordinate during the event itself. Finally, thank you Theresa Leung for running all of the accounting and Rachel Barry for taking photos.
Lastly, I would like to thank everybody who donated and attended the event. You made Tuesday night one of the most unforgettable nights of my life, and I hope you enjoyed it as well. We look forward to seeing all of you at our next event!